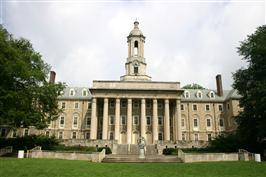 There are a variety of colleges and universities out there and it's important to know the distinction between them in order to choose the right one for you.
Colleges are traditionally described as post-secondary schools, which encompasses community colleges, technical colleges, and traditional four-year colleges.  The top degrees issued are normally baccalaureate degrees.  Universities, on the other hand, offer both baccalaureate degrees, masters, and doctorate (PhD) degrees.  Often universities have colleges and graduate schools within their charge.  For example, the University of Pennsylvania has school of arts & sciences, dental medicine, nursing, and veterinary medicine in addition to the graduate school of education and the Wharton school of business.  Note that size is not a determining factor between a college and a university.
A public university is one that is primarily funded and operated by state governments.  In Pennsylvania, there are state owned, related, and aided schools. 
- The universities that are owned and operated by the commonwealth make up the 
   PA State System of Higher Education. 

- The state-related schools are established as instrumentalities of the commonwealth,
   received annual appropriation from the state budget, and set their own tuition and fees. 

- State-aided institutions offer programs that the commonwealth deems to meet the
   public interest and are not offered by any other state institution.  These schools
   operate independently and set their own tuition and fees. 

- Community colleges were established by The Community Colleges Act of 1963 and
   provide two year certificate programs and other studies which can be transferred to
   traditional four-year colleges. 
Private schools are colleges or universities that typically operate as non-profit educational institutions.  They set their own mission, goals, policies, academic acceptance standards, and tuition and fees.  Private schools are privately funded, but many still receive tax incentives, public student loans, and grants.  Private schools are also typically smaller (although not always) and are more expensive because of smaller class size and overall more intimate educational experience.
For-profit universities basically operate as private education companies.  The schools cater to non-traditional students (working adults, part-time students, and students with children) looking for flexible enrollment and class schedule, online options, and convenient locations, many across the entire country.  Many for-profit schools offer financial aid packages, including federal grants and loans, and are less expensive than private non-profit universities. 
The College Board's website Big Future provides a comprehensive list of all types of colleges and universities.  The site also allows you to search for schools by size, single-sex, and religious preference.
Despite the variety and flexibility of higher education programs and the positive return on investment, the rising costs are making college less accessible for many.  As the cost of college tuition continues to outpace inflation, paying for it takes more planning, saving, and knowledge of assistance programs. 
Next up:  Paying for Higher Education