Step Six: Follow Map & Check Progress
Now that you have your route, all you need to do is follow it!  Sounds easy enough, but it may be a challenge, and that's okay!  The good thing is that you are in control and can determine if the expectations are realistic.  After the first month of following your money map, measure your progress by following the same process: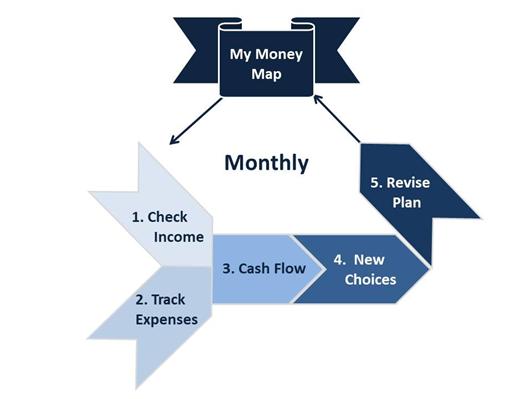 1.  Check your income to see if it was what you estimated

2.  Track your expenses to see if you came close to the allocation

3.  Calculate cash flow to see if each penny was accounted for

4.  Make new choices as necessary

5.  Plan your new numbers

6.  Follow your map
Remember that money maps aren't perfect and require adjustments. We will also encounter financial detours in everyday life that we may not have considered.  It also may take several months of practice in order to create a manageable money map, and that's all okay!  The important thing is that you make changes and continue on your destination.