More Than a Paycheck - Employee Benefits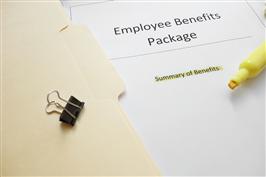 One of the most important steps you can take to build a bright future is to land and keep a good job.  The right job will allow you to challenge yourself, learn new skills, develop self-confidence and, of course, earn a good income.  Your paycheck gives you economic power—not just to buy "things," but to provide a strong financial foundation for you and your family.  You can also use your economic power to contribute to your community and help others.
When you apply for a job, one of the first things you think about it how much it pays.  But it's not just about the paycheck; you also need to think about what employee benefits the company offers.  The purpose of employee benefits--also known as "fringes" or "perks" is to:
- Make people want to work for the company

- Help employees learn more job skills

- Keep employees healthy and hard working
When seeking work, try to compare benefits as a way of comparing potential employers.  For example, two jobs may pay the same wages but offer very different benefits.  One employer may pay more but offer fewer benefits.  It's important to evaluate benefits as part of a job offer.  See the Evaluate the Offer page of the Jobs section for more information on evaluating a job offer including benefits
So what benefits do employers offer?  Employers may offer health, life, and disability insurances, paid time off, retirement or savings plans, and education benefits just to name a few.  And, did you know that the average employer will spend an additional 41 cents* on employee benefits for every dollar they  pay in wages?  Knowing what your employer offers is the first step to maximizing the resources already available to you. 
Click on Job Benefits Checklist to evaluate your own employee benefits.  Don't be afraid to ask your human resources staff to clarify any questions you may have about them.  That is what they are there to do!
Next up:  Group Insurance Benefits