Personal Enrichment Classes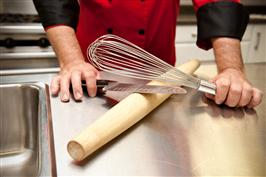 Have you ever wanted to try your hand at pottery? Creating a website?  Italian cooking?  Education doesn't have to be all serious and academic.  Personal enrichment classes offer the opportunity to try something new without a long-term commitment or expense.   Enrichment classes can help you meet new people and make connections in your community, too. 
There are three good sources of personal enrichment classes:  community colleges, libraries, and k-12 school districts.
Community colleges are a great place to take personal enrichment classes.  The PA Commission for Community Colleges has links to the 14 community colleges that service all 67 counties in the commonwealth.  Look for classes listed as non-credit which are open to the general public.  You don't have to complete a college application to enroll. 
Walk into any library and you know that it's more than just books.  Libraries offer a variety of programs, services, and events on topics such as basic literacy, health and wellness, financial education, crafts, cooking, etc.   The PA Department of Education has a list and links to the libraries in all sixty-seven counties.  
Some school districts in Pennsylvania offer adult or community education programs.  Check with your local school districts and county career and technical centers (CTCs) for information on programs that are offered to the public.
Next up:  Starting a Small Business